WISPER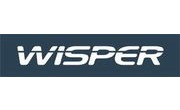 Wisper has been at the forefront of development in the UK electric bike market over the last twelve years. We are a founding member of the British Electric Bicycle Association as well as being a prominent affiliate and sit on the ebike committee of the Bicycle Association of Great Britain.
Unfortunately we don't have details for the WISPER website, but if you
Contact Us
here at the shop, we'll gladly give you details of any products you're trying to find.